American Food Company ("AFC") produces and sells ice cream and other fast-food products globally from its base of operations in Bangkok, Thailand.
AFC's principal product is Bud's Ice Cream of San Francisco, manufactured in the company's modern manufacturing plant in Bangkok under license from Berkeley Farms, Inc. of Hayward, California. This premium-grade ice cream, well-known and loved in California, is sold in ice cream parlors and supermarkets throughout South East Asia.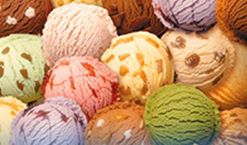 AFC's other products include the delicious Golden Gate Ice Cream Cake and Mr. Froyo, the low-fat frozen yogurt products.
The company also produces ice cream under buyers' brand names for local markets and export to other countries.
AFC operates a modern, first-class factory constructed in 1992 and substantially expanded in 2013. AFC adheres to the strictest international food safety standards. It holds several international certifications including GMP International (EST # 228), Halal from the Islamic Authority of Thailand and Sanitary Standards Approval from the United States. HACCP application is in process.